Cystitis , UTI's and Fowlers Syndrome
Cystitis , UTI's and Fowlers Syndrome
There are different types of cystitis as follows:
Bacterial Cystitis (BC) or UTI's
Bacterial Cystitis (BC) is also known as Urinary Tract Infection (UTI). There are treatments that can cure bacterial cystitis (UTI), including preventative measures, self help and medication. Diet and Nutrition also plays an important role for sufferers and will help to keep your immune system up to strength. For more information see our FAQs.
WHAT IS A CHRONIC UTI AND HOW DOES IT OCCUR?
The inner lining of the bladder is known as the urothelium. It is comprised of urothelial cells. A Chronic UTI occurs when pathogenic bacteria in the urine penetrate these cells in the bladder lining, activating the immune system which sets up an inflammatory response.
The commentary below gives a detailed account of how this occurs
00 Chronic urinary infection Picture Commentary August 2018 (1).pdf (1.13 MB)
Unreliable Testing for UTIs
Standard NHS tests are insensitive and miss many acute and chronic infections. Several studies have discredited dipstick urine tests and routine urine culture which is based on a criteria devised in the 1950s and has never been up-dated in the light of more recent research. You cannot rely on an NHS culture to diagnose an infection!
PRACTITIONERS
There are only a limited number of practitioners in the UK who are willing to test and treat Chronic UTI. The following are the main practitioners at present. For a full list of practitioners, join BHUK to receive a copy of our Chronic Infection Pack.
Mr Ased Ali BSc (Hons), MB ChB, PhD, FRCS (Urol)
Mr Ali is a Consultant Urologist at Mid Yorkshire Hospitals specialising in womens bladder health.
Once referred by your GP, you can access treatment for chronic infection via his private practices at:
Spire Elland, Huddersfield (01924 236483), Spire Longlands, Dewsbury (01924 236483) or Spire Methley Park (Leeds) 01977 717834
Mr Ali also holds a limited number of clinics in London. Appointments for his London Clinic can be booked via Focus Medical Clinic in Staffordshire (Tel: 01782 703007)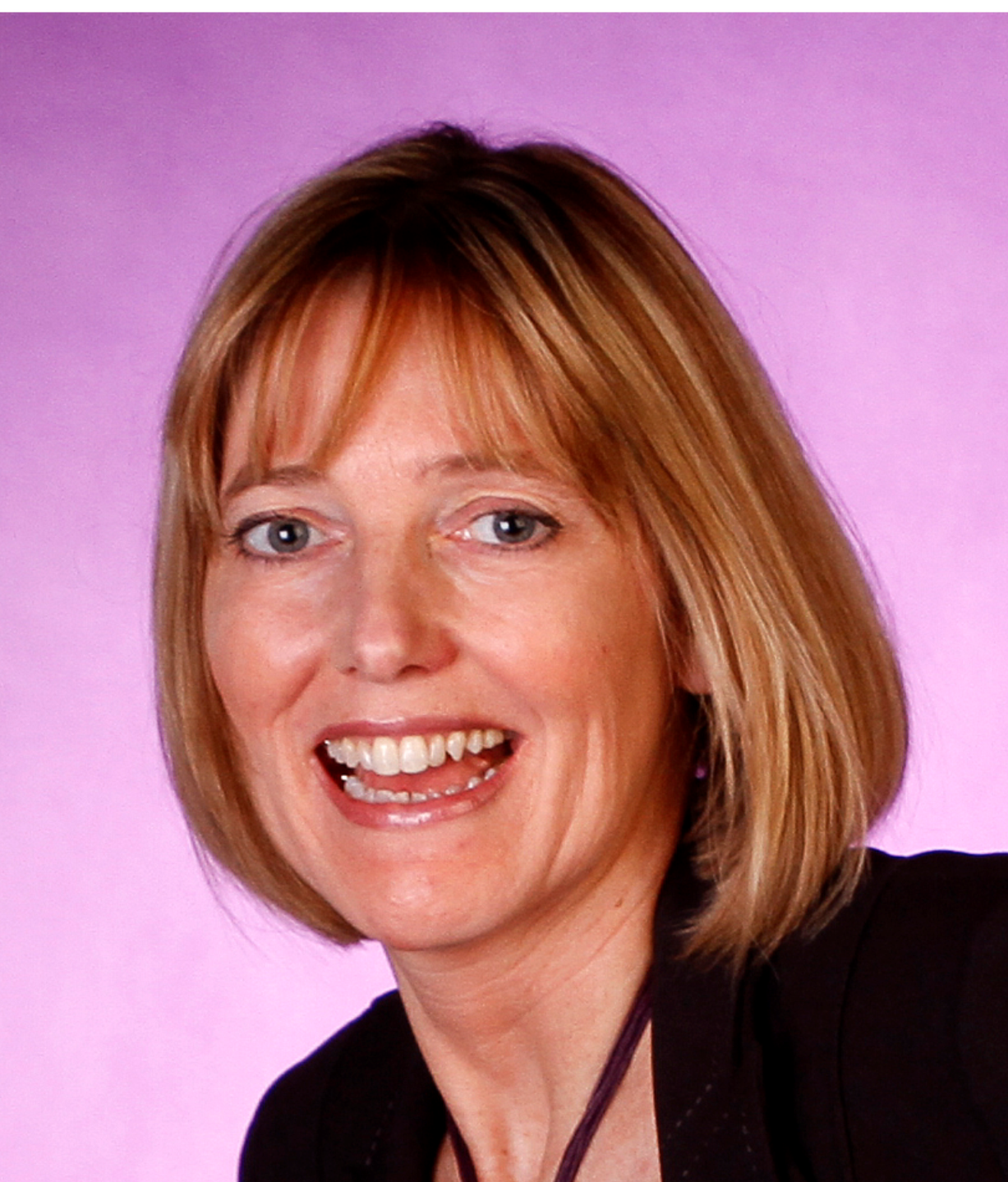 Dr Catriona Anderson MB ChB BSc(Hons), MRCGP, DFSRH
Dr Anderson is a private GP based at Focus Medical Clinic in Staffordshire. She has a specialist interest in microbiology and womens bladder health.
No GP referral is required to see Dr Anderson as she is a private GP herself and she also holds a number of clinics in London. Appointments for both her London and Staffordshire clinics can be booked via Focus Medical Clinic in Staffordshire (Tel: 01782 703007).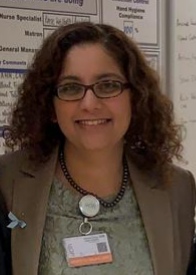 Dr Rajvinder Khasriya
Dr Khasriya is a Uro-Gynaecologist based at the Lower Urinary Tract Symptoms (LUTS) Clinic at the Whittington Hospital, London. She will treat patients via the NHS following a tertiary referral from a consultant.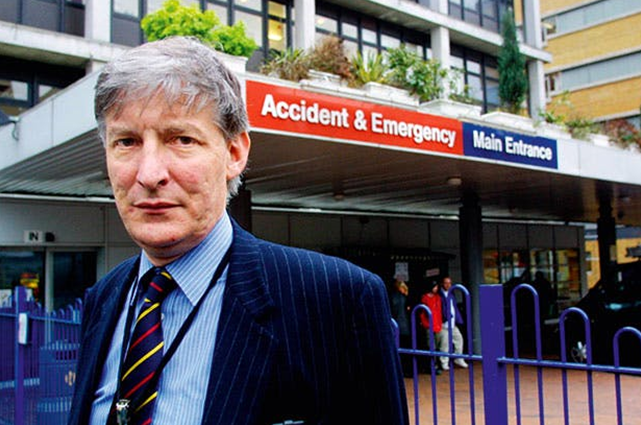 Professor James Malone-Lee's Clinic
Professor Malone-Lee now has a team of clinicians practicing privately at 10 Harley Street, London who have been trained by him to treat chronic UTI. They will see patients who have a referral from their GP.
Appointments can be made via the clinic secretary (Tel: 07568 40211)
Diagnosis and Treatment of Chronic UTI
Diagnosis and treatment for Chronic UTI varies between specialists.
Dr Anderson and Mr Ali favour rigorous testing and culture of samples. Following a positive result, they will prescribe long-term antibiotics but also on occasion use Uromune, the UTI vaccine and Hiprex. They will also advocate natural products such as D-Mannose where appropriate.
Professor Malone-Lee and his team and Dr Khasriya do not culture but examine a fresh urine sample under a microscope for the presence of bacteria. They rely on a detailed history from their patients to gain an understanding of their condition. They prescribe long-term antibiotics, together with Hiprex.
For further information on Chronic UTI join us to receive our Chronic Infection Pack.
"It's the wonderful Advice Line which was so invaluable to me! Sufferers speaking to fellow sufferers!"
Radiation Cystitis (Hemorrhagic Cystitis)
Radiation therapy is an important management tool for the treatment of cancer of the pelvic organs. However, it can result in radiation injury to the bladder (radiation cystitis). Symptoms can include hematuria (blood in the urine) and pain. Treatments include Hyaluronic Acid, Chondroitin Sulphate and Elmiron.
Chemotherapy Induced Cystitis
Cystitis may be caused by immunotherapy given directly in to the bladder. The most common form of immunotherapy given in this way is BCG (Bacillus Calmette-Guerin).
Bacillus Calmette-Guerin has been in use since the 1980s and is the most proven and effective form of immunotherapy at this point in time. Immunotherapy has a mechanism of action different from that of chemotherapy. It uses materials made by your own body or made in a laboratory to boost, direct or restore your body's natural defences against disease.
The drug "Mesna" is given with infosfamide and with higher doses of cyclophonsphamide to protect the baldder from becoming irritated. Treatments can include Hyaluronic Acid and Elmiron.
Bladder Health UK are very helpful and always available to give reassurance and advice!
Cystitis Glandularis/Cystitis Cystica
Cystitis Glandularis is the term given to describe the appearance of the bladder lining, in a certain frorm of bladder inflammation which is usually due to chronic urinary infection. A milder form of inflammation is termed cysitis cystica because the bladder lining breaks out in multiple tiny blisters. In cystitis glandularis the blisters have a slightly thicker lining and the bladder itself acquires a cobblestoned appearance. There is no direct relationship between these forms of inflammation and (BPS) Bladder Pain Syndrome/(IC) Interstitial Cystitis but they may co-exist. Treatment centres around long-term antibiotic therapy to eradicate urinary tract infections.
Without the support of Bladder Health UK, I might easily have slipped into depression.
Follicular Cystitis is a chronic form of cystitis characterised by small mucosal nodules and the formation of lymphoid follicles in the bladder. Treatment centres around antibiotics to control infection and a corticosteriod to reduce inflammation, such as Prednisone.
Eosinophilic Cystitis is a rare inflammatory bladder condition caused by a build up of eosinophils in the bladder. The cause of the condition is unknown but it is though to occur more commonly in those with allergies. Symptoms are similar to those of (BPS) Bladder Pain Syndrome/(IC) Interstitial Cystitis and treatments, which are directed mainly at control of symptoms, can include antimuscarinics, amitriptyline, antibiotics and on occasion steriod medication.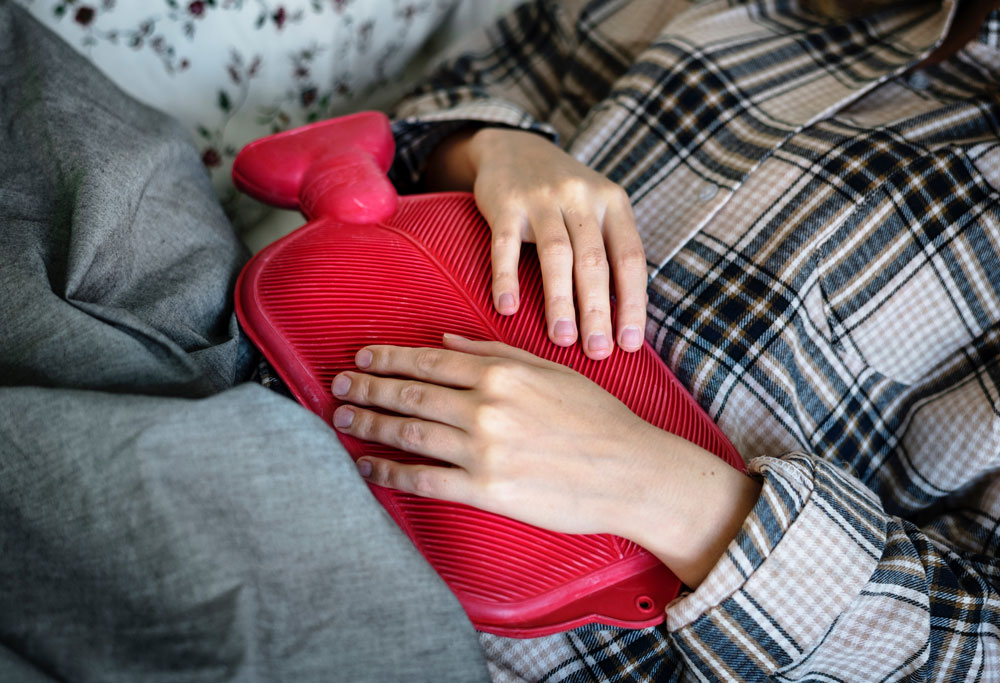 Trigonitis refers to changes seen under cystoscopy to the tissue of the trigon (the neck of the bladder). The condition occurs when the normal bladder lining cells (urothelium) are replaced with squamous (skin derived) cells and is typically found in postmenopausal women or younger women with fluctuating levels of oestrogen. The cause of trigonitis is not yet known but on occasion electrocautery is used as a treatment. Antibiotics and anticholinergics may also be recommended.
What Is Fowler's Syndrome
Fowler's Syndrome was first described by Professor Clare J Fowler in 1985 and consists of difficulty in passing urine and urinary retention due to the bladder's sphincter muscle's failure to relax. Fowler's affects young women and up to half the patients affected have polycystic ovaries.
Who Is Affected?
Fowler's Syndrome typically affects younger women in their twenties and thirties who infrequently pass urine with an intermittent stream. The sensation of urinary urgency which would normally be present with a full bladder is absent although when the bladder is full to capacity, pain and discomfort may be experienced. The patient may then present to A&E unable to pass urine normally and the bladder is then drained via a catheter.
What Are The Symptoms?
The severity of symptoms varies from person to person. Some women experience complete retention while others experience difficulty passing urine with a residual amount left in the bladder.
Frequent urinary infections may be a problem for women suffering from Fowlers Syndrome due to the bladder not emptying properly. Some women may also experience back, kidney and suprapubic pain, together with blood in the urine. Bladder spasms may also be an issue.
Women with Fowlers Syndrome are at an increased risk of Sepsis due to the infections they suffer. They are also at risk of devloping antibiotic resistance due to the frequency with which they need antibiotics.
What is The Cause?
The cause is yet unknown and still being researched.
What Are The Treatments?
Patients who can still void nomally will have their residual volume monitored and provided it is low, no further intervention will be needed. Patients will a larger residual volume, however, can be helped by learning clean, intermittent self-catheterisation.
Patients in complete retention may be helped with sacral nerve stimulation, a process by which a device is implanted in the lower back which emits electrical pulses to stimulate nerves to restore voiding. Alternatively, patients for whom this procedure is not successful, can have an in-dwelling catheter via the urethra or a supra-pubic catheter whcih is surgically inserted below the belly button.
Urinary diversion surgery is offered to some for whom less invasive intervention has been unsuccessful. Either a Mitrofanoff or a Urostomy may be offered.
For further information on Fowlers Syndrome visit http://www.fowlerssyndrome.co.uk
Please downlaod the BHUK onformation leaflet on Fowlers Syndrome:-
FowlersSyndromeLeaflet.pdf (310 KB)
Fowlers February
This is the month of the year when activities take place to raise awareness of Fowlers Syndrome. BHUK created the logo below which you can download and use for any informational material you are producing. Also click here to see the Fowlers February Week 1 Video of a Patient Experience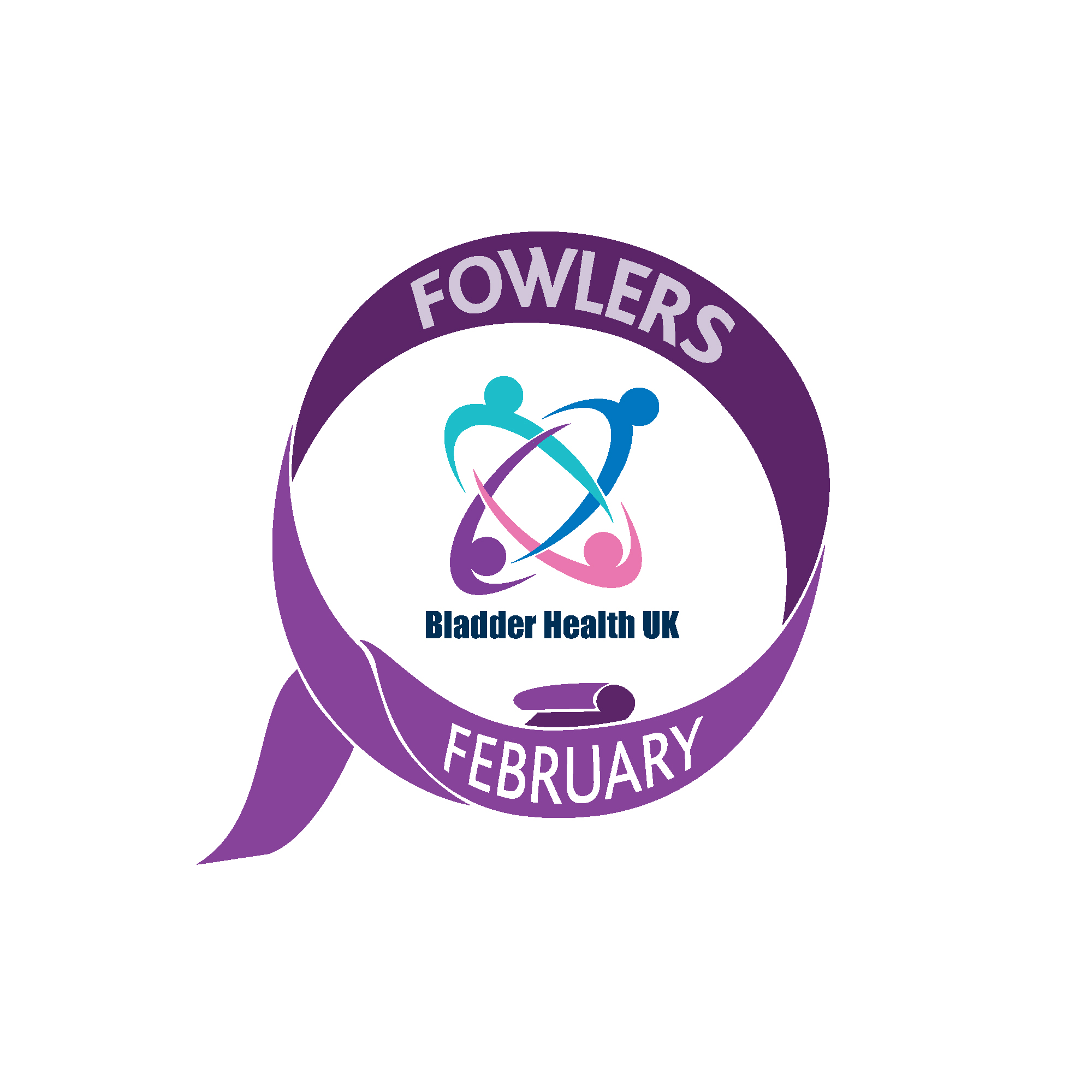 "I wouldn't be where I am today without the help of Bladder Health UK in some of my darkest times with this illness!"
How can BHUK help you, if you join us?
Members Magazine "Your Bladder Health", published 3 times per year.
An excellent booklet written to provide practical help and advice.
Telephone Advice Line – 0121 702 0820
Telephone contact - with a BHUK Phone-Pal and fellow sufferer.
Comprehensive Resources - fact sheets, DVDs, lending library, Can't Wait Cards and much more.
Message Forums- exchange personal experiences of bladder illness with others.
Social Media sites including Facebook @BladderHealthUK and Twitter #bladdersupport
Area Co-ordinator - providing an opportunity to have personal contact with other sufferers.
Related conditions to read about